---
Welcome to Phoenix
General information and information about real estate in the Maricopa County
communities of Phoenix, Anthem, Carefree, Cave Creek or North Scottsdale.
Phoenix is located in Maricopa County, Arizona and forms part of the Phoenix-Mesa-Scottsdale metropolitan Area. It is the Capital of Arizona and with an estimated population of 1,522,986, is the most populous city in Arizona as well as the most populous capital city in the United States. Phoenix is a major metropolitan center and is the hub for social, economic and cultural activity in the Southwestern United states. Fifteen Urban Villages that make up Phoenix and the city is divided into nine regions and districts, Downtown, Midtown, North phoenix, South Phoenix, West Phoenix, the Biltmore area, Ahwatukee, Arcadia and Sunnyslope.
The city of Phoenix got its start as an agricultural center, which thrived from cotton and citrus farming. As its population has grown over the last two decades, the economy in Phoenix has shifted more towards technology and communications. These days, Phoenix is home to major companies such as the Apollo Group, Avnet, Intel, American Express, US Airways Group, U-haul International, Petsmart, Freeport McMoRan, Google, eBay, AOL and Honeywell among others. Other economic stimulators are the seasonal tourism industry and the golf industry.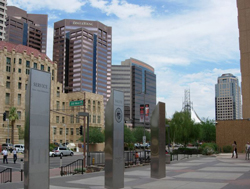 Images provided by www.wikipedia.com
The weather in Phoenix is arid and average summer highs are among the hottest in the United States. Summer temperatures can range from over 100 degrees Fahrenheit in the day to the mid 60s at night. Winter temperatures range from over 65 degrees in the day to the mid 40s at night.
Phoenix offers residents and visitors numerous recreation options. There are many different water parks where you can cool off during those hot summer days as well as numerous parks and open spaces where you can practice a variety of sports and activities. Golf is the predominant activity in Phoenix and there are hundreds of different golf courses to choose offering different levels of play for players of all ages and skill levels.
As of march 2008, the average cost of a single-family home in Maricopa County was $344,100, down 3.08% from last year. Unemployment is lower than the national average (4.60%) at 3.10% and job growth is positive at 3.32%.
Doreen Drew & Amy Wylie, Designated Broker
Daisy Dream Homes Real Estate
Doreen Ph: (623) 879-3277
Amy Ph:
623-640-3134
Fax:
623-321-6231
42101 N. 41st Dr. Suite 148
Anthem, AZ 85086 US